In your eagerness to start a new life, it might be tempting to stretch the truth in an attempt to secure an Australian visa. Or perhaps you might not review all your papers and unwittingly hand over bogus documents. Either way, if you knowingly or unknowingly present fraudulent documents to Australian authorities the consequences are serious. It's important that you remain diligent and cautious throughout your visa application process.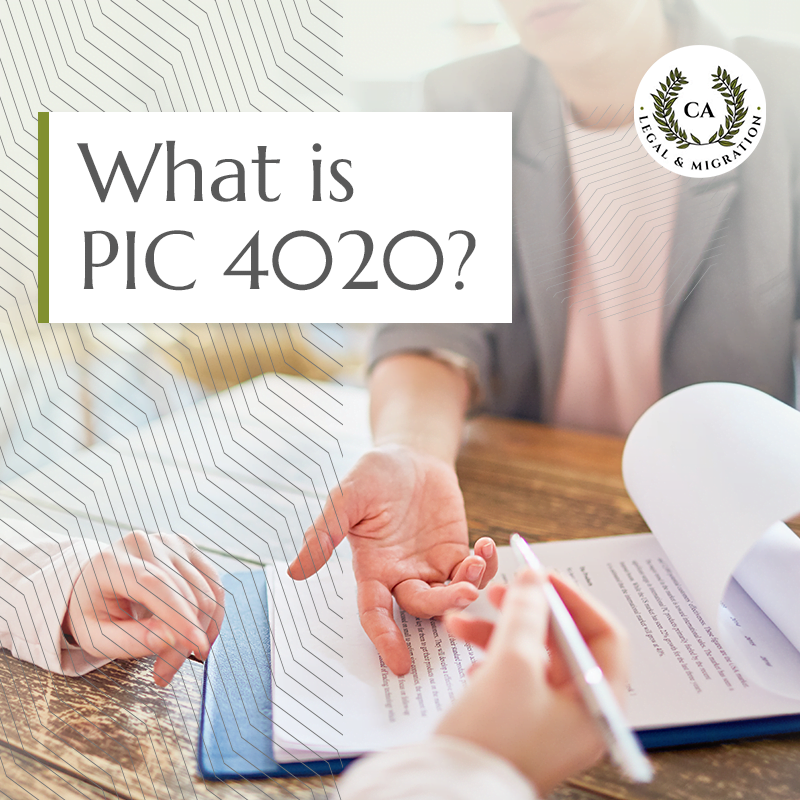 What is PIC 4020?
PIC 4020 is a condition that needs to be satisfied before the grant of a visa which is subject to that condition. Visas that are affected by PIC 4020 are skilled migration visas, business visa, student visas, family visas and other temporary visas.
It contains two key areas:
Fraud relating to bogus documents and false or misleading information

Bogus documents relating to the applicant's identity
We will address the first one only: Fraud relating to bogus documents and false or misleading information.
"Bogus document is document that the Minister reasonably suspects is a document that: purports to have been, but was not, issued in respect of the person, or is counterfeit or has been altered by a person who does not have authority to do so, or was obtained because of a false or misleading statement, whether or not made knowingly"
What's next?
Australian Immigration will invite you to comment by issuing a 'Natural Justice letter' when they have investigated and discovered that you have provided false and misleading information. A 'Natural Justice' letter' gives you the opportunity to comment on the suspected false or misleading information and/or bogus document, as well as to address whether you believe any grounds for waiver apply.
1. Is the document and information true? Immigration will consider your response and what you have presented and decide whether it shows that there is no evidence that a bogus document or information that is false or misleading in a material particular was provided.
2. If the documents are bogus and you are not eligible for a waiver then the visa cannot be granted and the application must be refused accordingly.
Ignorance is not an excuse
Immigration does not need to be satisfied that the applicant knowingly provided a bogus document or information that is false or misleading.
If Immigration decides that your documents are bogus, your visa will be refused and a 3-year ban is imposed to any future visa application. 
If the delegate is satisfied that either of the PIC 4020 waiver circumstances exist, the visa may be granted in extremely exceptional circumstances if the applicant satisfies immigration that there are:
compelling circumstances that affect the interests of Australia; or

compassionate or compelling circumstances that affect the interests of an Australian citizen, an Australian permanent resident or an eligible New Zealand citizen.
There are very serious consequences if a bogus document is provided to immigration. It is not an excuse that you did not know that the document was fraudulent. An example could be where an applicant contacts an agent overseas to assist them to obtain a document in their home country. If the agent obtains bogus documents, the visa applicant would still suffer the consequences of providing those documents whether he is aware that the documents are bogus or not.
To get expert help and prevent jeopardising your visa chances, send Chioma a WhatsApp Message on +61 437 384 309.
The content of this blog/article/brochure is provided for general information purposes only and does not constitute legal advice. Please seek legal advice regarding your particular circumstances.